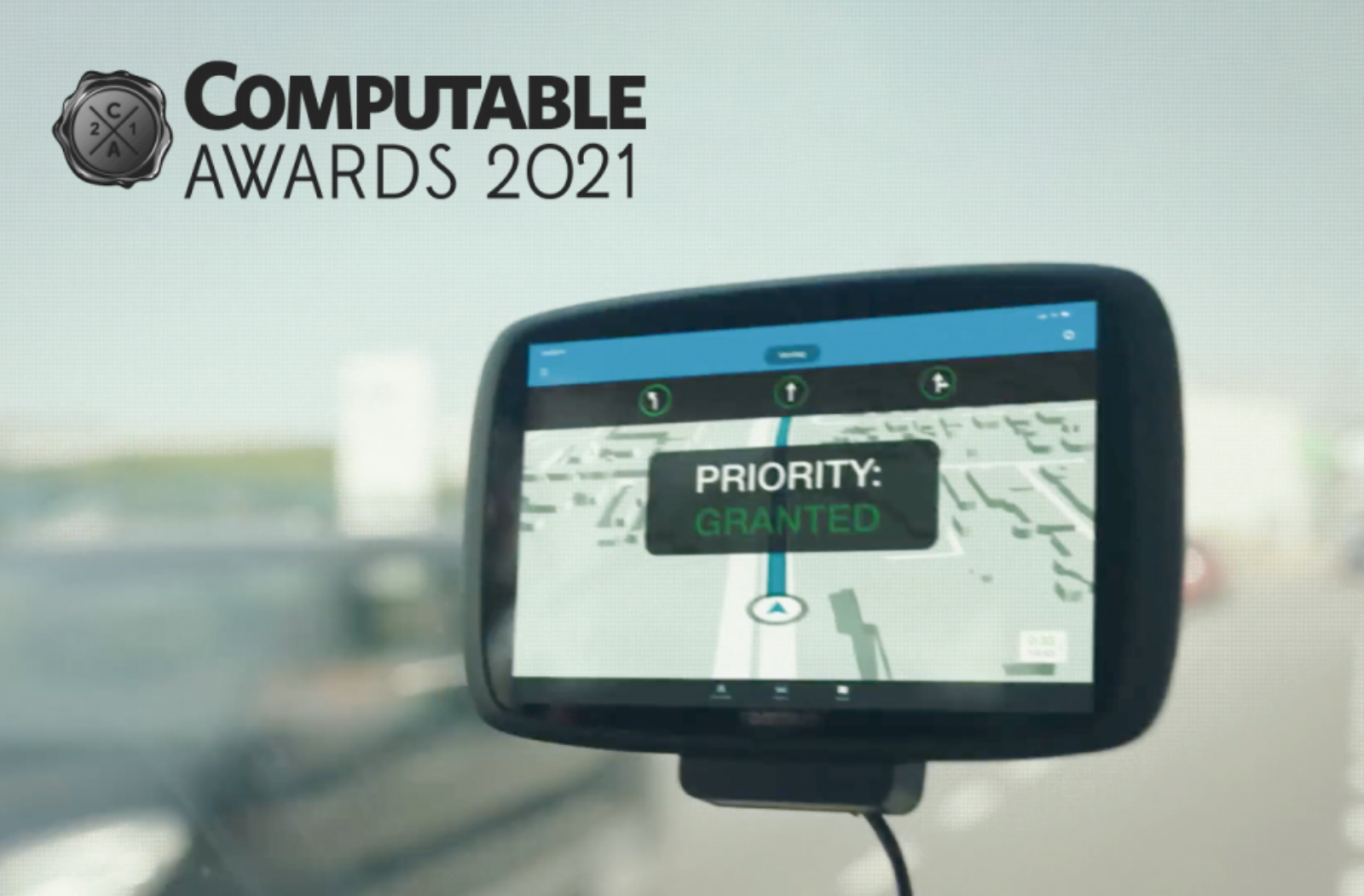 22 June 2021
The Ministry of Infrastructure and Water Management, together with dozens of co-governments and market parties, has established a partnership (Talking Traffic) to jointly develop and apply innovative traffic applications. Be-Mobile and CityGIS have been selected to enable the ambulances of Ambulancezorg Nederland (AZN) to move through traffic more safely. Various infrastructural links have been realized for this purpose. The jury of the Computable Awards 2021 in the category Healthcare project nominates the project 'Ambulances safer on the road by linking LSIV with C-ITS platform'.
The Be-Mobile technology can be linked to intelligent traffic light installations (iVRI). Via iVRIs ambulances and other emergency services can cross an intersection with a green instead of a red light, while other road users are warned in time that an emergency service is approaching via the Flitsmeister app. There are already several hundreds of iVRIs in the Netherlands. At the end of October 2020, the members of branch association Ambulancezorg Nederland (AZN) decided that all ambulance regions will connect to Talking Traffic via the national ICT systems.
Be-Mobile is responsible for the development and delivery of the C-ITS platform that connects the ambulance sector on a national scale to the services developed within the Talking Traffic Partnership. Traffic safety is the main incentive for this. By taking the ambulance's route into account, a "green carpet" can be rolled out and, eventually, delays due to, for example, bridge openings and movable bollards can be avoided. AZN has the best organized infrastructure nationwide; after all, an ambulance needs to be uniformly deployable anywhere in the country. The implementation of Be-Mobile at AZN is seen as an example project to be rolled out later to other emergency services.
Jury verdict
According to the jury of the Computable Awards 2021 in the Healthcare Project category, it is very surprising and admirable that the interest group AZN has taken on such a large and technically complex project with many stakeholders. Through a good link with Talking Traffic and integration of available iVRIs, the basis is laid for safer traffic and faster deployment of ambulances and other national emergency services.
A first success has already been achieved. In the city of Deventer, which is now fully equipped with smart traffic lights (51 iVRI in total), all emergency services, including fire and police services, have been using Be-Mobile's Talking Traffic technology for some time and the reactions are very positive. The jury therefore nominates the project 'Ambulances safer on the road by linking LSIV with C-ITS platform' for the Computable Awards 2021.
Source: Computable.nl