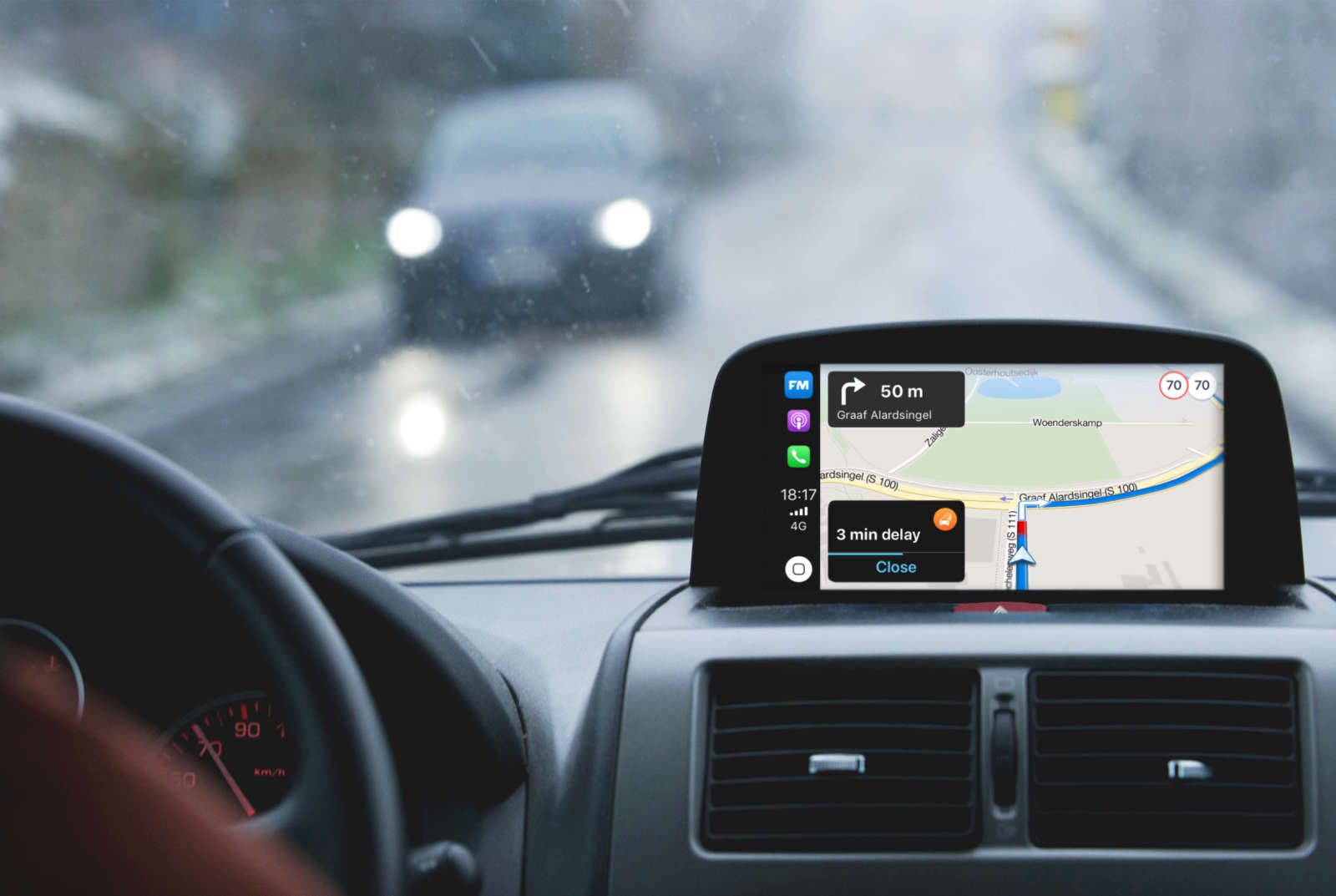 In times of advanced technologies and an ambitious vision on the future of mobility, roadside infrastructure still remains the most widely used technique in traffic management. Toll gantries, variable message signs and barriers are filling the streets, while they each have a perfectly finetuned software alternative: think of GNSS tolling, C-ITS and ANPR. So is it wise to keep investing in hardware? Is it durable? In the end, the investment cost in hardware can amount up to three times as much: from purchase to installation, maintenance and finally, replacement. It is unquestionable that C-ITS technology cuts the costs, but it also gets the information to the driver faster and improves both road safety and driving comfort. Equally significant, it will make the transition towards autonomous driving smoother. But most importantly, the ultimate upside to C-ITS is that it allows road operators to do traffic management directly in the dashboard of the car.
Forget what you know
Going forward, we must bridge the gap between hardware and software, lower the threshold to use new technologies and spur a change in behaviour for travelers, private companies and public authorities. According to Be-Mobile, Cooperative Intelligent Transport Systems (C-ITS) is the next fundamental step to bring the mobility ecosystem and their individual interests closer together. More specifically, public-private partnerships are proving to be a key point of progress, which are currently already being tested in SOCRATES2.0, Intercor and Talking Traffic. With this in mind, it is important to realize that public and private partners depend on each other to create a standard for effortless travelling across all European borders and avoid fragmentation.
C-ITS in practice today
It is safe to say that C-ITS is not a thing of the future, as it is already proving its worth today. Over the past few years, Be-Mobile has successfully implemented the technology for the road operator and individual driver.
Variable message signs
For example, we recently connected every variable message sign in the Netherlands to our Flitsmeister application. This brings the dynamic speeds, open or closed lanes and peak hour lanes into the car in real time. Wherever the distance between two signs is too big, for example, software can bring virtual speeds into the car. Or avoid discussions about where exactly to merge. It could even be the determining factor to dismiss a few signs along the way, and it never has to be a problem if a driver has missed the content of a sign: the information will always be available in the car.
Railway crossings
After we introduced railway crossings in our digital map and navigation instructions, our data showed that drivers tend to brake sooner in response to the in-car warning. This corroborates the fact that C-ITS has a positive effect on drivers' capacity to anticipate, making traffic safer for everyone on the road.
Priority vehicles
And there's more: there are exclusive applications for specialized services such as the ambulance, fire brigade and police force. Going on the road to save lives, it may happen that they have to ignore a red light in order to increase the victim's chances of life. Though very noble, at the same time it is also dangerous towards others. With C-ITS technology, traffic lights can now give priority to emergency services and change the light into green, while all the other directions will see a red light. The result: not a single life is compromised.
Driving as we know it > C-ITS > autonomous vehicles
Many say that autonomous driving is the next big thing. Although that may be true, the race towards this new era of driving may not be as straightforward as it seems. There are many things to be considered. First, there will be a time when autonomous vehicles and non-autonomous vehicles will be on the road simultaneously. As long as they keep crossing paths, autonomous vehicles will not be able to fully serve the purpose they were meant for. Another key point is the human aspect in driving, which will be non-existent in autonomous driving. Henceforth, providing information is essential, whether it is to humans or machines. Fortunately, connected cars are here today to be leveraged upon and ease that transition. Equipped with C-ITS technology, they will make the road towards autonomous driving smoother, faster and easier. Essentially, it is much more future-proof than that, as the necessity to communicate with roadside infrastructure will not cease to exist when autonomous vehicles are ready.