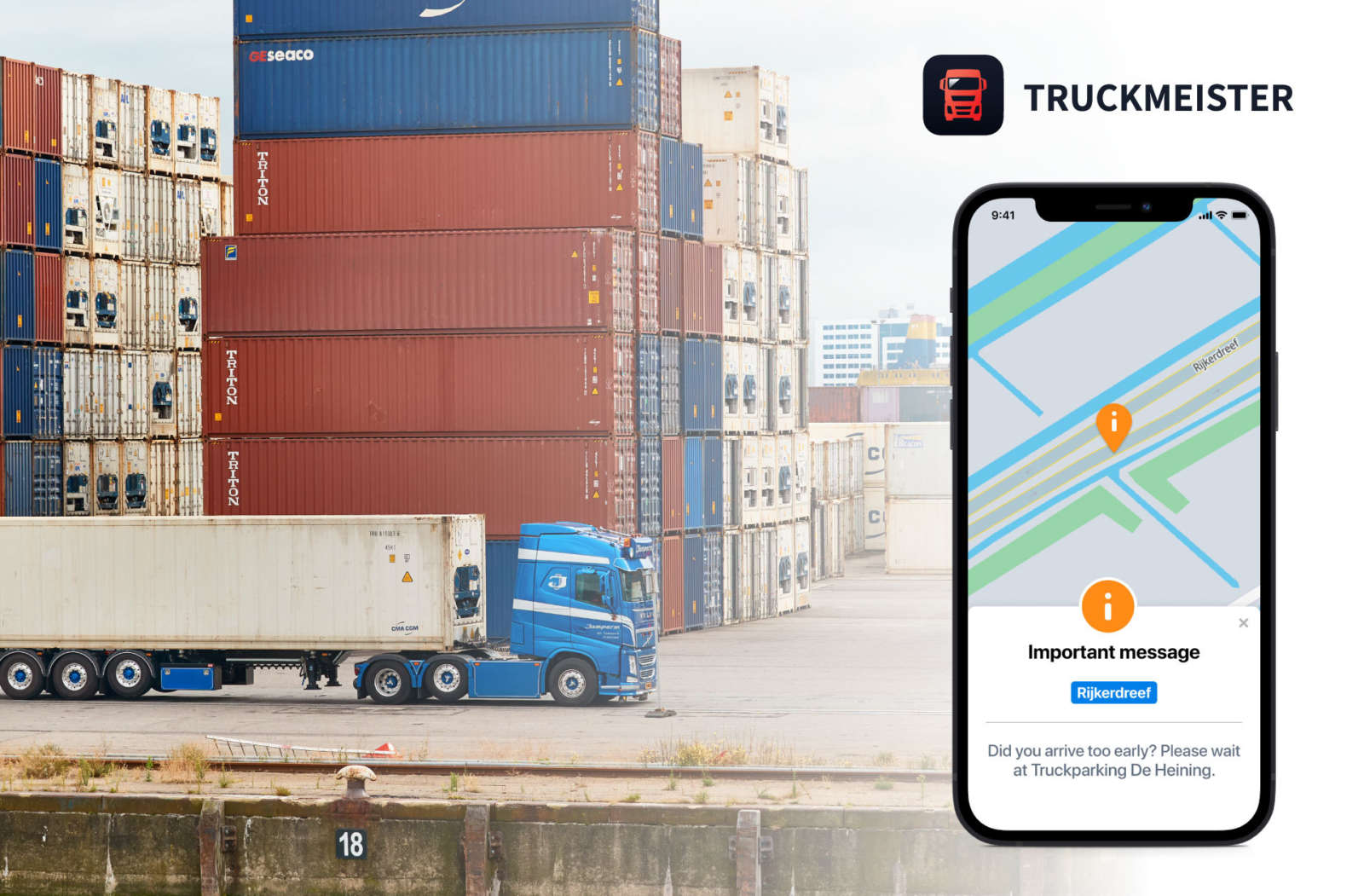 16 June 2021
AMSTERDAM - Starting this week, truck drivers with destinations at Schiphol Amsterdam Airport or Port of Amsterdam will be notified of safe waiting locations if they cannot load or unload yet. For two parking and waiting locations, the facilities, location and shortest route to get there will be shown in the Truckmeister app. This contributes to better accessibility because it prevents queues and illegal parking around Schiphol.
Showing drivers the way prevents them from driving around looking for a waiting spot or parking on public roads. This is an initiative of CTC Amsterdam Westkant, which focuses on realizing smart mobility services for logistics in the Amsterdam Metropolitan Region, together with Amsterdam Airport Schiphol, Port of Amsterdam and transporter Wallenborn.
Truckmeister app
Through the Truckmeister app, which is well known in the industry, drivers receive information about De Heining on Westpoortweg in the Amsterdam port area and Truckparking 3 (TP3) on Folkstoneweg in Schiphol-Zuidoost. In and around these transport hubs, trucks come and go 24/7. Drivers who are not familiar with the area sometimes spend an unnecessary amount of time looking for a place to wait.
Transporter Wallenborn will be testing the app first. Dennis Smit: "We hope that we will soon have better insight into the availability of parking locations and hopefully we will even be able to reserve a waiting spot in advance in the future."
Continue reading below the quote and image.

"In the Truckmeister app, Be-Mobile selectively unlocks the information about truck parking locations; only trucks in the immediate vicinity get the notification."

- Janneke Nijsing, CTC Amsterdam Westkant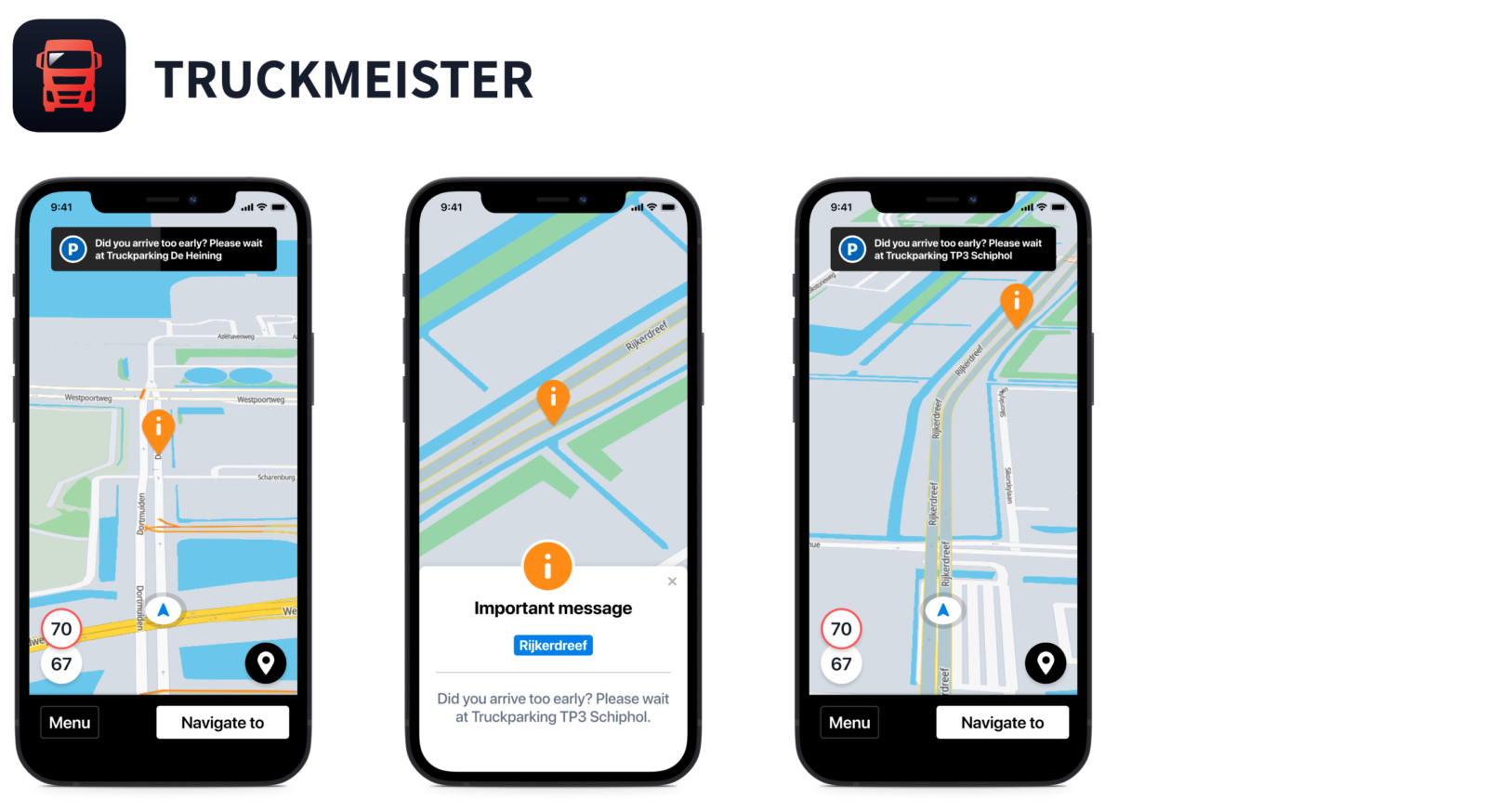 Sustainable mobility
Less waiting on public roads, less CO2 emissions. On the access roads to the port of Amsterdam, trucks bound for the port will already be given data about the location, the shortest route to De Heining and the facilities on site. Joost Zuidema of Port of Amsterdam: "Fewer trucks waiting on public roads means less CO2 emissions and less congestion on the roads in the port area."
Trucks for the airport also get insight into the current supply of parking spaces, they know in advance whether they can park at TP3 or not. Erik Felëus, smart building developer at Schiphol Commercial: "Amsterdam Airport Schiphol is working hard to improve the accessibility of its cargo buildings, offices and hotels, partly through digitalization. With this, we encourage truck drivers who arrive early to make use of TP3, so that they are not unnecessarily parked on the public roads at their destination."
New step towards smarter mobility
Digitally unlocking parking and waiting locations is one of the in-truck applications that are included in the national Connected Transport Corridors (CTC) program. The program focuses on improving traffic flow, traffic safety and livability through the application of smart mobility solutions. CTC Amsterdam Westkant is exploring this year how to make the data available nationwide and scalable.
Legal issues surrounding data management are included in this. CTC Amsterdam Westkant is also investigating, together with the logistics sector, what will be possible in the future, for example reserving a parking or waiting location. Janneke Nijsing: "We hope to be able to scale up from 2022 and that other parties will take over with the development of new applications, for example for mapping loading and unloading space in a city."