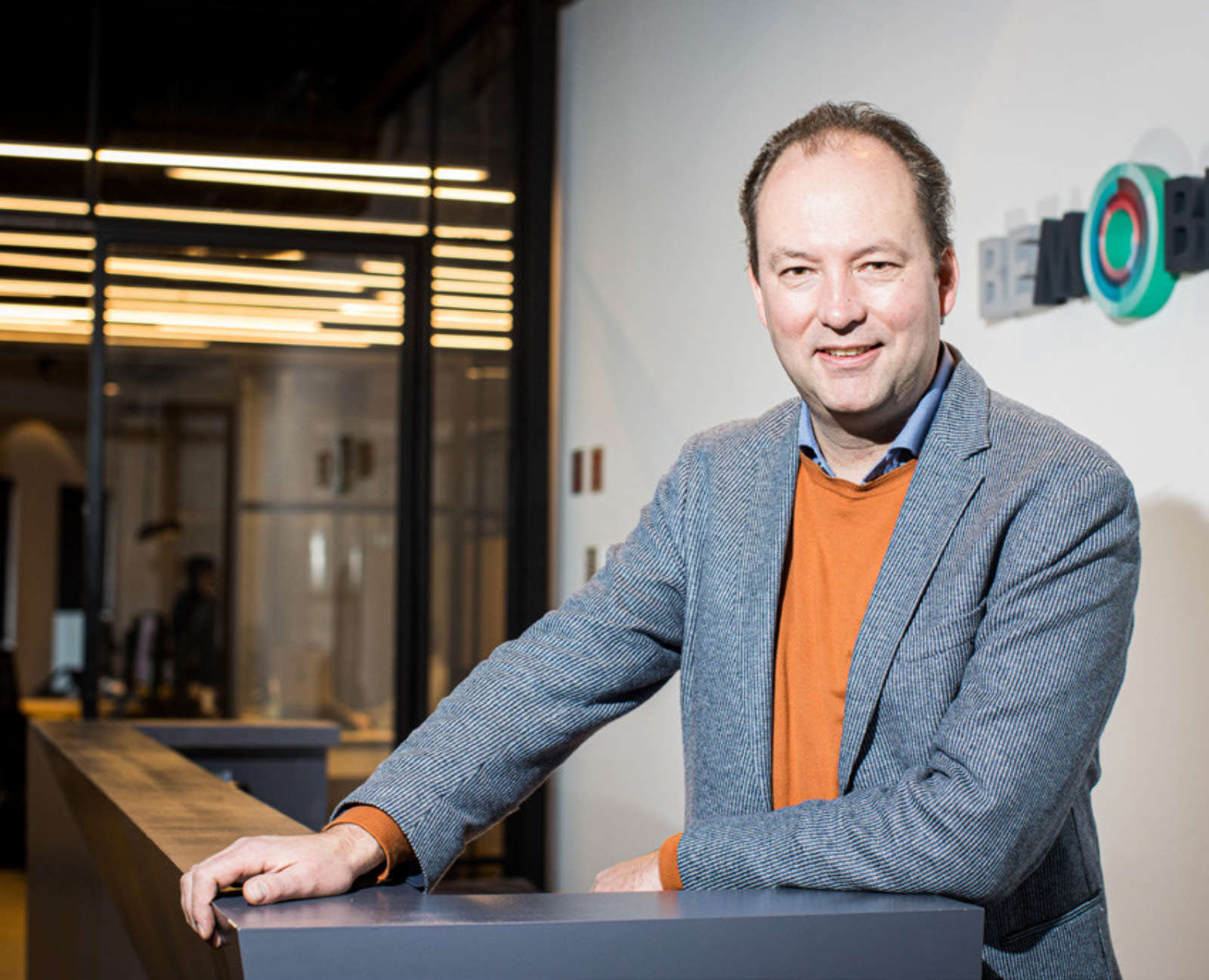 22 December 2022
The self-driving car is still to come, but the connected car is gradually becoming a reality. It has cameras and sensors, and receives input from other cars, from traffic infrastructure and from external sources. In the Benelux, Be-Mobile is an important player in sending data to vehicles. 'Currently this is still done through an app on the smartphone and there is still a driver in between. In the future, important information will be sent directly to the car that uses it to make decisions,' says Bart Lannoo, Innovation Director at Be-Mobile.
Ten years ago, experts, or at least the optimists among them, thought the self-driving car would be a matter of 10, maybe 15 years. Meanwhile, it is clear that it is far from tomorrow, if it ever gets here. Bart Lannoo is a believer but he would not be surprised if it takes until 2030-2040, maybe even 2050, before cars are fully autonomous. Since early 2022, Bart Lannoo has been Innovation Director at Be-Mobile. Before that, he worked for imec on projects related to connected and autonomous vehicles.
Can you please introduce Be-Mobile? Most may know the company from traffic information for media, governments and individuals.
'Be-Mobile has been around for about fifteen years and is mainly active in the Benelux. The Dutch market is as big as the Belgian one. We also have projects in Denmark, Germany, Turkey, Poland and a few more countries. There are 110 people working at the headquarters in Melle and thirty in the Netherlands. Be-Mobile is a service provider working on smart mobility. We have a lot of historical and real-time traffic data. Based on that, we can indeed offer traffic information, but that is only one of the applications. Our data also allow us to do historical traffic analysis for governments. In addition, we are developing a tool that, based on our data, will also allow us to predict the effect on the surrounding streets when deciding to close a street or introduce one-way traffic, for example.
We are also putting a strong emphasis on traffic management. A simple example is parking guidance systems. It is software from Be-Mobile that guides motorists to underground parking garages and indicates on displays or even in the car how many spaces are still available. We also provide information to control the dynamic traffic signs on freeways, which, for example, indicate speed limits or warn of an accident or traffic jam. Another application is to ensure that traffic lights are on green less or just more to make traffic flow more smoothly. At those same traffic lights, we can also give priority to ambulances, fire trucks or police cars. In the next step, we convert traffic data into clear actions and controls of objects such as dynamic signs or traffic lights. For example, we currently have a project underway in the Netherlands, traffic management as a service, in which we want to distribute traffic optimally across the region or city based on prevailing traffic density, accidents and roadworks. That way, the existing road network is used more efficiently. Another application of traffic management is more along the lines of payment and tolling. We of course have our parking app 4411, but also a possible smart mileage charge uses data about the location of a vehicle and the time of day it is somewhere. By cleverly combining all these solutions, we arrive at a total traffic management system in which we can help facilitate the policy goals of road authorities and optimize travel time for individual road users.'
Tolls we know from the Liefkenshoek Tunnel or the French péages. What exactly is a smart mileage charge?
'It means that the amount of the charge depends on place and time of day. For example, during peak hours it may be more expensive to drive than during off-peak hours, on the ring road around a small town it may be cheaper at the same time than on the ring road around Brussels or Antwerp. So the charge requires you to know where a vehicle is driving at all times. The introduction is, of course, a political decision. Be-Mobile is now involved in a project for trucks. In this project, we provide the software for the exact determination of place and time so that a correct rate can be linked to it. The starting point of our activities is always data. And of course we are also concerned with getting important data into the car or truck. We do that with our own app Flitsmeister which sends information directly to the motorist. It is a navigation app but a large proportion of users use it as an alert app. Originally it was about warning about speed cameras but now it's about much more.'
Is Flitsmeister an important data source for Be-Mobile?
'Absolutely. In the Netherlands that app is very popular with more than 2.6 million active users every month, and that number is also growing in Flanders. We also have more than ten partners providing data. In Flanders we have about ten percent of vehicles mapped at any given time. That provides a very good overview of the situation, especially on busy roads and highways. In smaller municipalities or a more rural context, that percentage may be slightly lower, but then additional information can be extracted from data from counting loops or camera systems.'
Continue reading below the image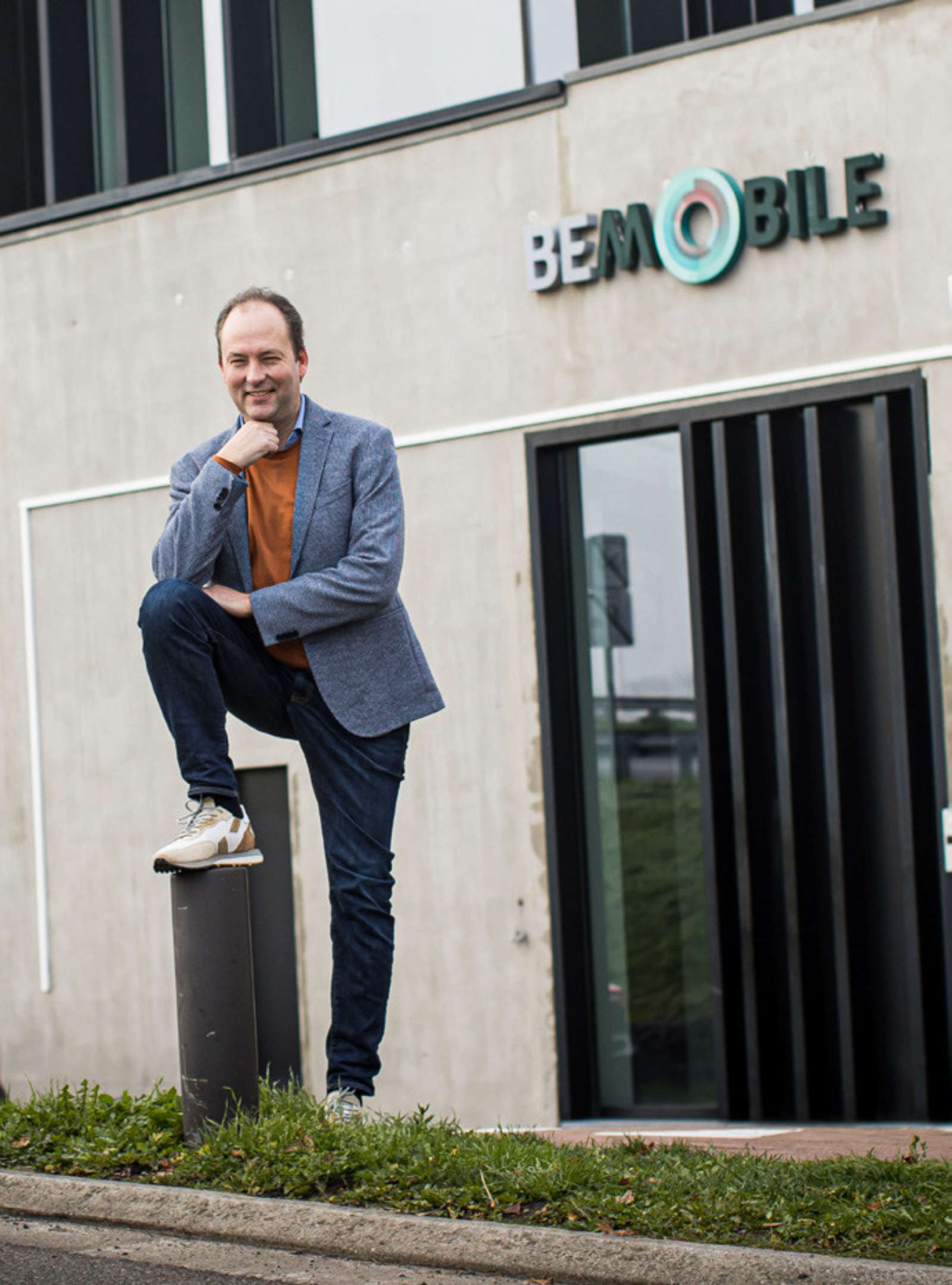 Who are Be-Mobile's customers?
'Governments are very important but we also have a service to businesses and through the apps also to individuals. For businesses, for example, we have a professional account of 4411. By the way, with that app you can do more than just pay parking fees. You can also use it to buy tickets from De Lijn or SNCB. 4411 can evolve into a multimodal app that links different mobility services and payments. Multimodal navigation is already included in Smart Ways to Antwerp, for which Be-Mobile provides the underlying navigation technology. Be-Mobile still starts from the car, but multimodal is becoming increasingly important. In a European research project, together with the city of Antwerp, we now want to encourage our Flitsmeister subscribers to use Park and Rides in the outskirts of the city. When someone leaves home for Antwerp, he is immediately notified that there is also a Park and Ride from where a streetcar leaves every few minutes. The app also immediately mentions how much time that alternative will save or cost. The next step could be that when there are major traffic jams, the train station is suggested as an alternative.'
Big players such as Google Maps can also provide that information. Where does Be-Mobile make a difference?
'We distinguish ourselves primarily through our local anchoring and direct contacts with cities and towns. One of the major criticisms of navigation apps is that they encourage cut-through traffic. We have just started a research project on the most socially acceptable route that avoids as many school districts and residential areas as possible and keeps traffic on the main roads for as long as possible. With the city of Antwerp, we are developing a freight route planner that keeps trucks out of school zones as much as possible during rush hours. And ideally you don't send all trucks and cars on the same road so that traffic is spread out a bit and everyone has the shortest travel time on average.'
Recently, Mercedes Benz presented the first car to be certified level 3 in terms of autonomy. What does that mean?
'A level 0 car has no assistance systems, one at level 5 drives fully autonomous. Currently, many cars are at level 2. They have advanced driving assistance systems such as adaptive cruise control and lane assist. Driving the car remains the driver's job, but he is already well assisted. Remember the driver who became unwell on the E314 highway a few months ago after which his car continued to drive autonomously for 25 kilometers before the police could stop him. That was a vehicle level 2. From level 3, driving becomes mainly the car's job, but the driver must take over as soon as it is necessary. Especially in city traffic, for example, this is still absolutely necessary. The speeds at which the vehicle can drive autonomously are also quite low, up to 60 km/h on the highway, i.e. in traffic jams. From level 4 the driver must be ready, but less active than in level 3. In level 5 he can fold the steering wheel and pedals and the car drives fully autonomously. Level 2 will soon become mandatory for new cars rolling off the assembly line. Mercedes has the first certification worldwide for level 3.'
How long until we reach level 5?
'In 2010 it was said we would have autonomous vehicles by 2020, they are nowhere near there. The chances are very small that they will be there by 2030, maybe it will be 2040 or 2050. One of the big problems is the reliability of the system in any type of road, any type of weather, in any environment and situation. There are still too many situations today where that reliability cannot be guaranteed. One of the consequences is that sometimes a self-driving vehicle is too cautious. Inserting somewhere or crossing the road quickly is difficult because the vehicle wants to be completely sure. A self-driving car will also stop at a stop sign, which is mandatory, and stay there for three seconds. Even if there is no other road user around at all.'
Continue reading below the image.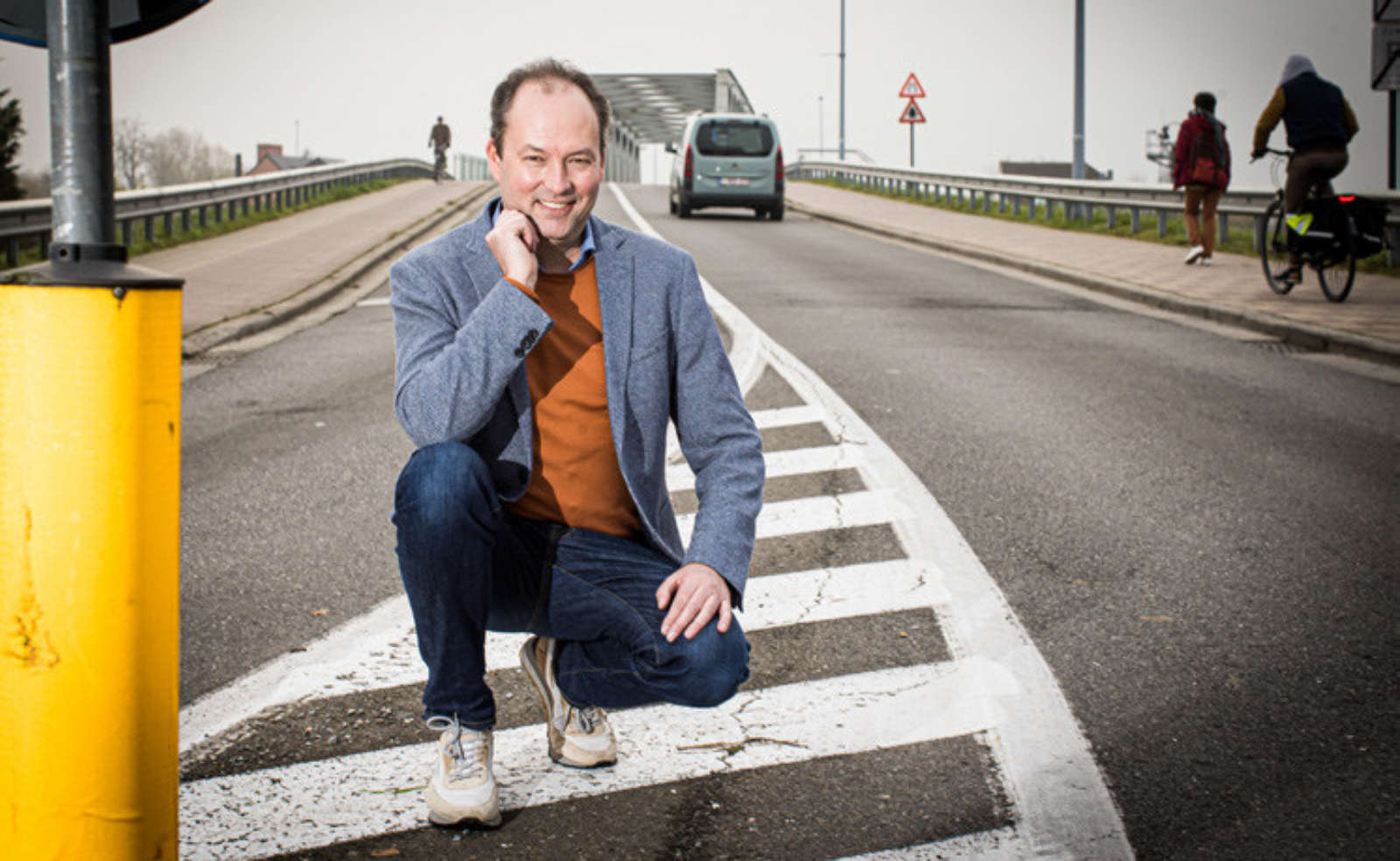 What about the ethical issues? Does a vehicle choose to crash into a wall with all the danger to its occupants or hit a pedestrian?
'Actually, the self-driving car should make sure it doesn't have to make that choice. If it knows long enough in advance that there are children playing somewhere, it can already anticipate. Basically, the self-driving car has a much wider field of vision than humans. It can also look around corners or see what is happening ten cars in front of it because it receives notifications from vehicles in the vicinity that are also equipped with cameras and sensors. If they are not nearby then the self-driving car will very carefully turn a corner or enter an intersection. If it has all the info, then it will drive much more smoothly.
What about the reports like would a self-driving car hit the brakes hard when a leaf swirls down? Or with the car failing to notice a white vehicle in the blinding sun?
'Those were certainly real problems until a few years ago. Meanwhile, we are already a step ahead. Cars not only have cameras, but also radar systems and sensors at different frequencies. Progress is being made, but there are indeed thousands of possible conditions and increasing the reliability of the system remains a challenge.'
Will drivers be willing to let go of the wheel?
'If they see the benefits yes, I think. They can save a lot of time and relax or work while driving. And if they can also have autonomous vehicles coming on demand, they won't even need their own car at all. The self-driving car has a future if the technology is on point and affordable.'
What role can Be-Mobile play in that evolution?
'We are mainly looking at the exchange of data between car and infrastructure and between cars themselves, and the additional data we can offer so that the self-driving vehicles can take that into account in their decisions. Also important to us is traffic management, distributing the cars across the network. Now we can try to do that but ultimately it's still the driver who decides whether to follow the route we suggest or not. With a self-driving car, that no longer plays a role. Nor does it matter if it takes a small detour if the passengers can work or relax. In that context, we are the main contractor of Mobilidata, a C-ITS project of the Flemish government. Be-Mobile provides the platform for the exchange of traffic data, and integrates numerous use cases such as the intelligent control of traffic lights, the sending out of all kinds of warnings to car drivers as well as cyclists and pedestrians, and so on. Other players can connect to the platform. The connection to cars is currently done via smartphone, in the future it can connect directly to cars. We can say that within Mobilidata, Be-Mobile is building the digital road infrastructure of the future with the aim of increasing road safety and balancing traffic across the road network.'
Is the self-driving car coming anyway?
"Today autonomous vehicles are already driving on closed sites, specific locations or fixed routes. The step to driving in the city is still big, there is still a lot of work. But I do think the fully autonomous vehicle will come.'
Text: Bart Van Moerkerke
Pictures: Lieven Van Assche