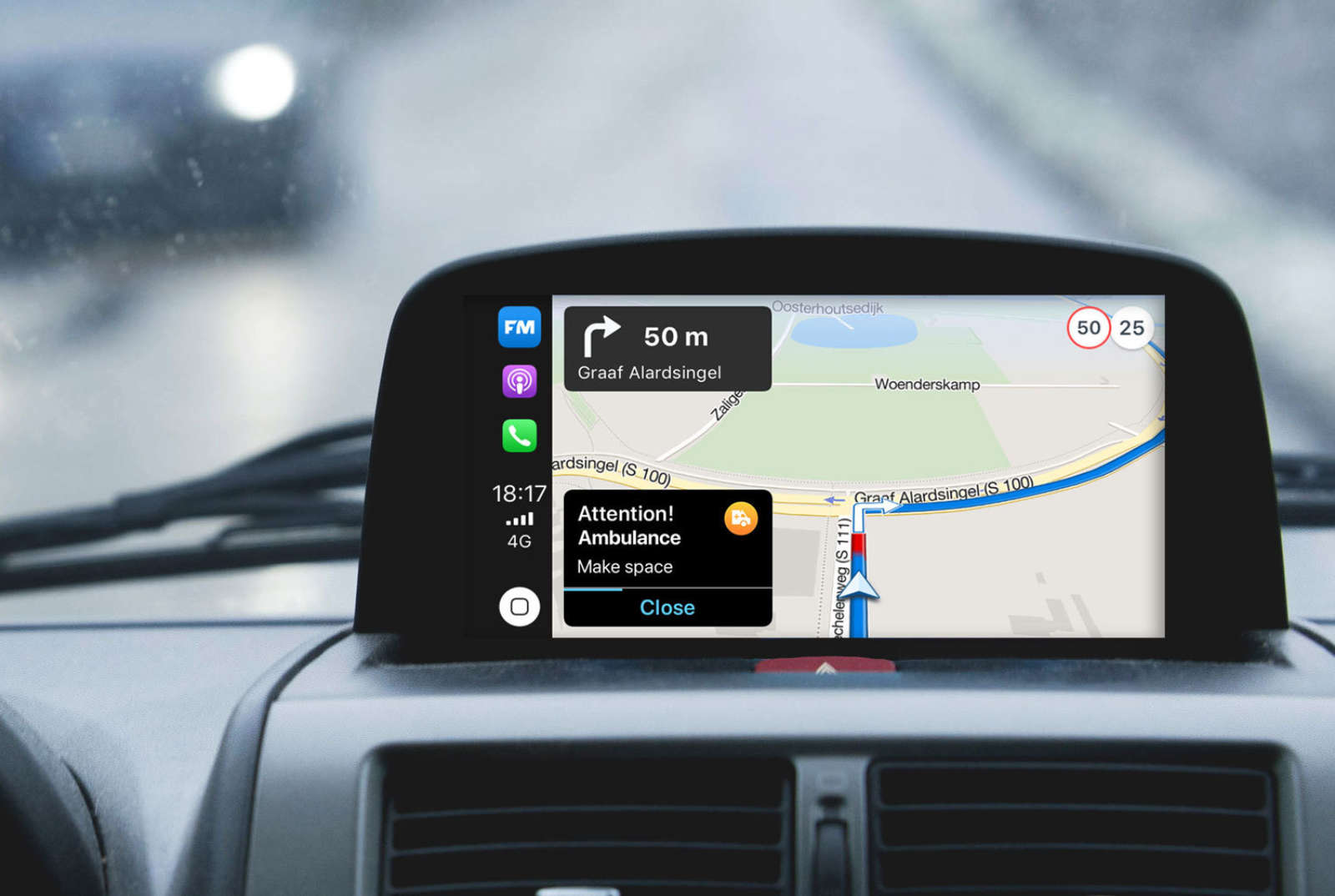 04 July 2022
The government is going to cooperate with navigation system suppliers and car manufacturers to better warn motorists of police cars, fire trucks or ambulances that are on their way in an emergency. The project is called "Safety Priority Services (SPS)" and, according to the Ministry of Infrastructure and the Environment, the Netherlands is the first European country to realize such cooperation.

"98% of motorists now use digital information while driving. In addition, pilots and projects show that providing warnings while driving has a positive effect on road safety. I would like to embrace these developments, in part because drivers of cars and trucks, for example, indicate that they appreciate such warnings and increasingly rely on them. That's why we will now start our collaboration with six organisations: we will ensure that they safely provide the right information to drivers."

- Mark Harbers, Dutch Minister of Infrastructure and Water Management


Safety Priority Services
The app of Flitsmeister already took the lead with such a service in recent years and this company is now also one of the partners in the project. Users of the navigation of the ANWB, Be-Mobile (of which Flitsmeister is a part), Hyundai, Kia, Inrix and TomTom will soon experience the new service, in cooperation with the government: their car or app will warn when a vehicle with flashing lights and sirens is approaching. The warning will indicate the type of vehicle and the direction from which it is approaching. Initially, this will only work for ambulances. Other types of vehicles will be added later this year.
In addition, drivers will be warned according to criteria agreed by the government, so that they are not unnecessarily distracted. This warning will be given when they approach unexpected and potentially dangerous situations, such as:
Wrong-way drivers
Traffic jam tail ends
Obstacles on the road
Roadworks
An accident
(Temporary) slippery road
Exceptional weather conditions, such as a heavy hail shower
Closed lanes ('red crosses')
Road inspectors or other emergency and rescue vehicles along the road
Drivers will also be provided with information about prohibitions and instructions, such as the prevailing speed limits. In due course, it will be examined whether it is possible to have the travel advice provided by navigation systems take account of possible unsafe traffic situations, for example to avoid school zones.
Continue reading below the image.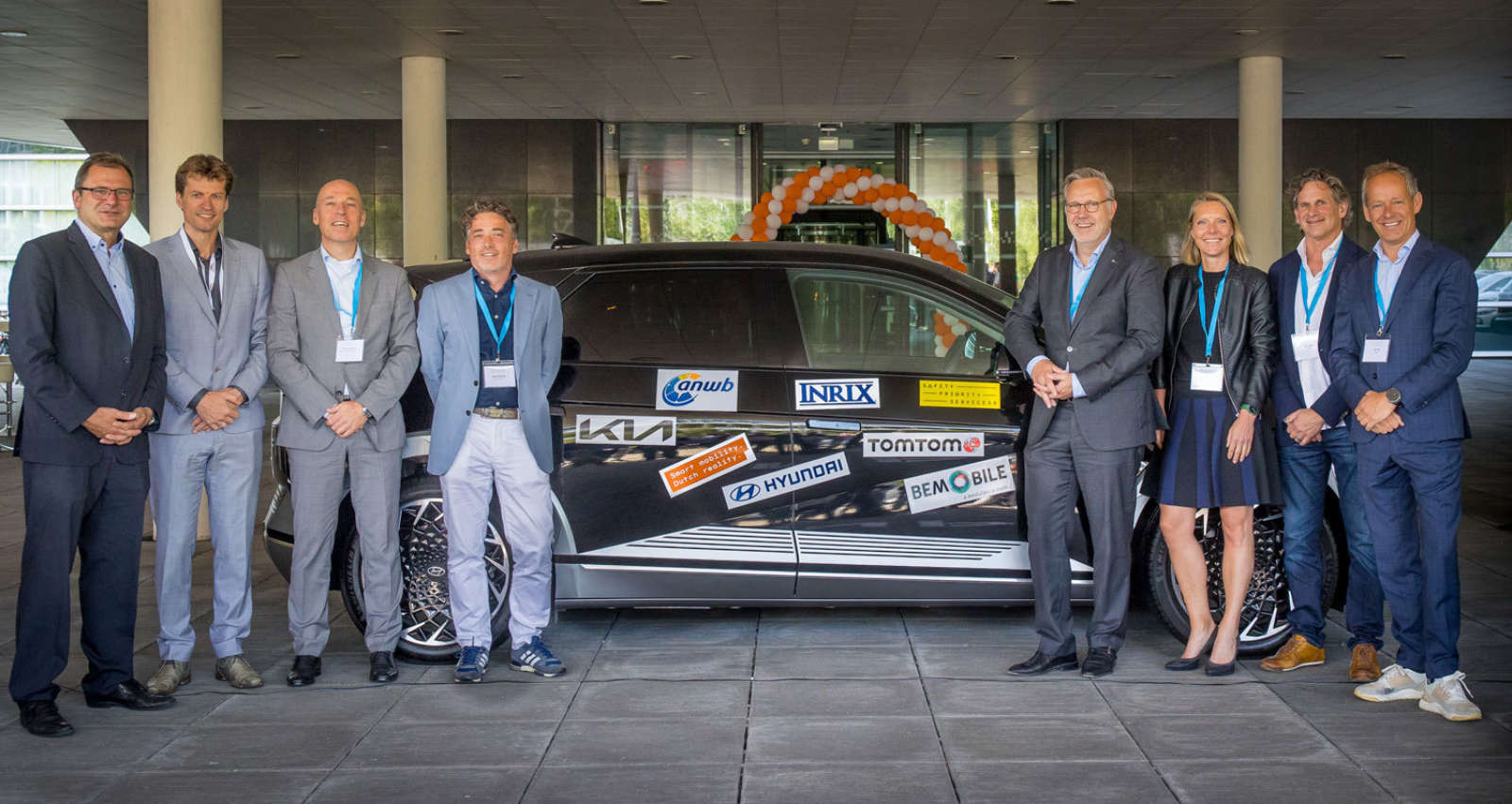 Gaining knowledge and experience
With Safety Priority Services, the Netherlands is preparing for EU legislation and rules that will enter into force in 2025. In the Netherlands, the companies involved can gain knowledge and experience in prioritising, designing and offering road safety warnings.
In their collaboration, the six companies combine their own data with data from the National Data Portal for Road Traffic (Nationaal Dataportaal Wegverkeer, NDW). The data of the companies themselves ensure that navigation systems know where, for example, there is slow-moving traffic (traffic jam tail ends) or where road inspectors or their vehicles are located. The NDW data are accessible to everyone and contain information about prohibitions and instructions.
The six parties will provide feedback on the quality of the NDW data, so that it can be improved where necessary. Agreements have also been made with the companies about how their warnings are given: no action by drivers is needed, so that they can keep their hands on the steering wheel.
Privacy
Naturally, the privacy of drivers is safeguarded. The six parties will ask their users whether they can share the information to increase road safety. If users agree, the data will be fully anonymised and shared with the other parties via a secure connection.