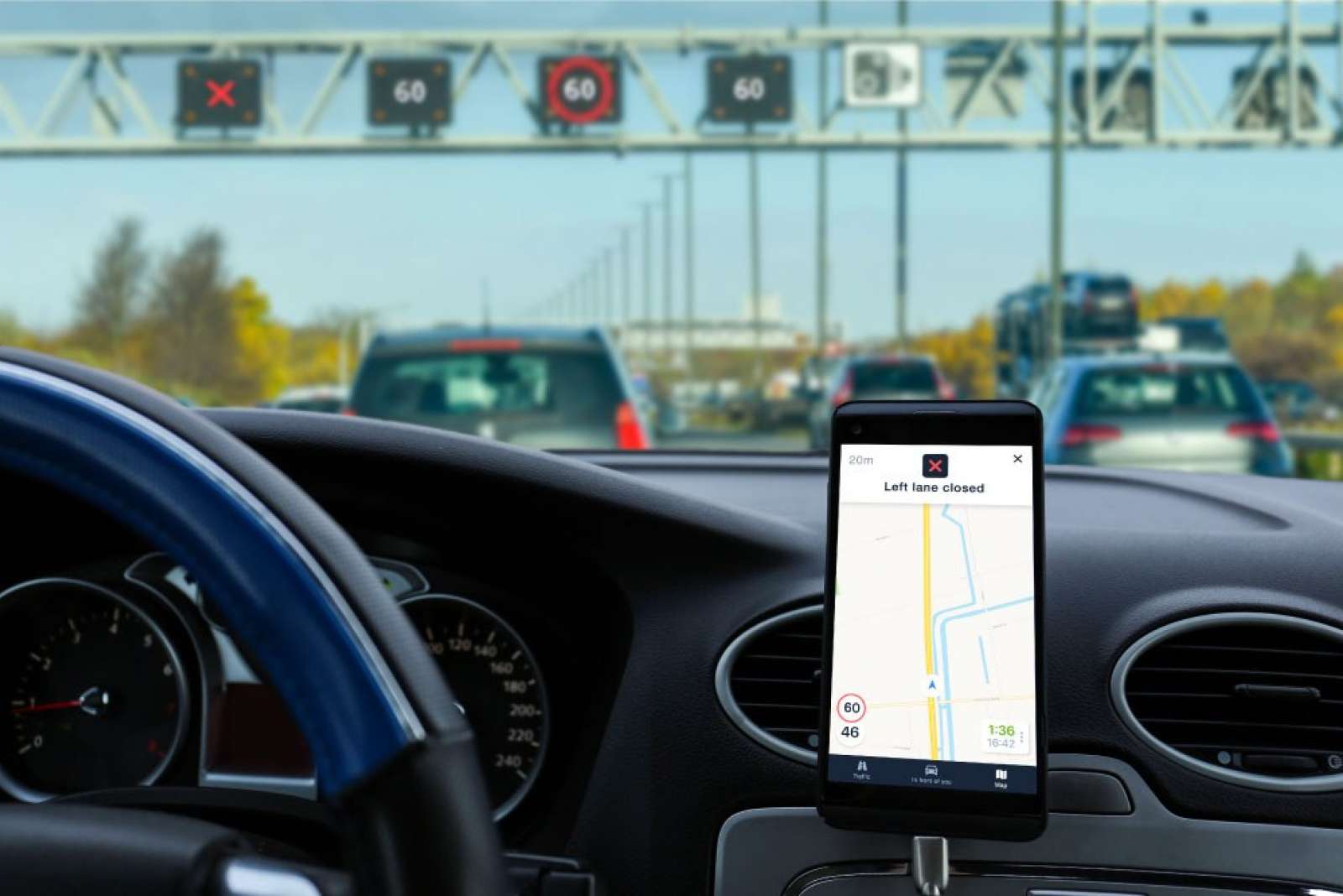 As part of the Talking Traffic project, Be-Mobile and the Ministry of Infrastructure and Water Management, together with National Data Warehouse (NDW) and the Directorate-General for Public Works and Water Management, have ensured that information on speed limits from static traffic signs, rush-hour lanes and Variable Message Signs (VMSs) above the road are now available directly in the car. This is done via the popular navigation and traffic information app Flitsmeister, which now has more than 1.6 million unique users. The data is available throughout the Netherlands and contribute to better traffic safety and traffic flow.
A view of the current maximum speed and availability everywhere
"How fast can I drive here again?" A simple question that is not always easy to answer. On the main road network, for example, in addition to the national maximum speed, the speed also depends on local regulations, timeframes, the opening of rush-hour lanes and the information on VMSs.
As of now Flitsmeister brings this information directly into the car via the app in image and sound. This way, drivers can see the current maximum speed at a glance, which increases driving comfort.
"With Flitsmeister we are on a mission to make driving easier, safer, more efficient and above all more fun. This new type of information is a feature that matches this mission perfectly. We now show the right speed limit everywhere and at all times in a country where this can often be unclear. We also provide early warnings with spoken messages when a lane closes. More safety, but above all ease of use", says Jorn de Vries, Managing Meister at Flitsmeister.
In addition, Flitsmeister displays real-time information about the closed lanes in the app. This allows road users to better anticipate changes in the availability of the lanes and prepare for possible actions.
Public institutions and private companies working together to improve traffic safety and traffic flow
Providing this information in Flitsmeister requires an intensive collaboration between the public and private sector resulting from the Partnership Talking Traffic. Some of the functionality was already temporarily active in the Flitsmeister app, but eventually did not meet the quality requirements.
Together with the Dutch government, Flitsmeister and Be-Mobile have started an intensive improvement process with the aim of raising the user experience to a higher level. Thanks to a widely supported project framework throughout the chain, many test drives and open communication, all partners worked together on the provision of these services.
"It is a great challenge to provide, process and present all relevant information throughout the country. Thanks to our strong relationship with the government and Flitsmeister, we are able to process more than 17,000 VMSs in real time into individual information for our users. This way, we contribute to better information for faster and safer traffic", says Wannes De Smet, Lead C-ITS at Be-Mobile.
In September, Be-Mobile will test the same functionality in Antwerp as part of the European project Socrates 2.0. This too is a public-private partnership between Be-Mobile and the Flemish government.
The app
Flitsmeister is available in the App Store or via Google Play. More information at https://www.flitsmeister.nl/